A dedicated and experienced team of the best piano movers in Mississauga working with GTA Moving Services offers the most efficient, reliable, and stress-free transportation of musical instruments in the Greater Toronto Area. These professional movers can ease the time, financial, and physical burden of moving a heavy piano without the worry of delay or damage. We will organize your move clearly step-by-step, from packing to relocation and the unpacking. Moving heavy furniture has never been so easy!
Piano Moving Service in Mississauga
We are proud of our well-established and reliable piano moving services that guarantee the safe and careful transportation of any instrument no matter the size or weight. Transporting a professional piano is an extremely delicate process, with one wrong move being able to destroy the beautiful instrument beyond repair. This is why it is very important to trust experts with the packing and transportation of your piano. The removal and transportation of a piano depend largely on the size and type of instrument, from uprights to grands, baby grands, and huge German pianos. Due to the different sizes, weights, alignment of strings, and even seasonal temperatures, we know the perfect way to transport each individual piano in the perfect way to avoid any damage.
The 8 Steps to Move Your Piano
Packaging to ensure the piano is safe from damage.
A skid board is used to transport.
The piano is then transferred to a flat board.
Belts are used to pin the piano down to the flat board.
The piano is then loaded onto the truck.
Your instrument is transported to your given location.
Lifting mechanisms are used to unload the piano.
Your piano will be unpacked and positioned in a new space.
Why Choose Our Team to Move Your Piano?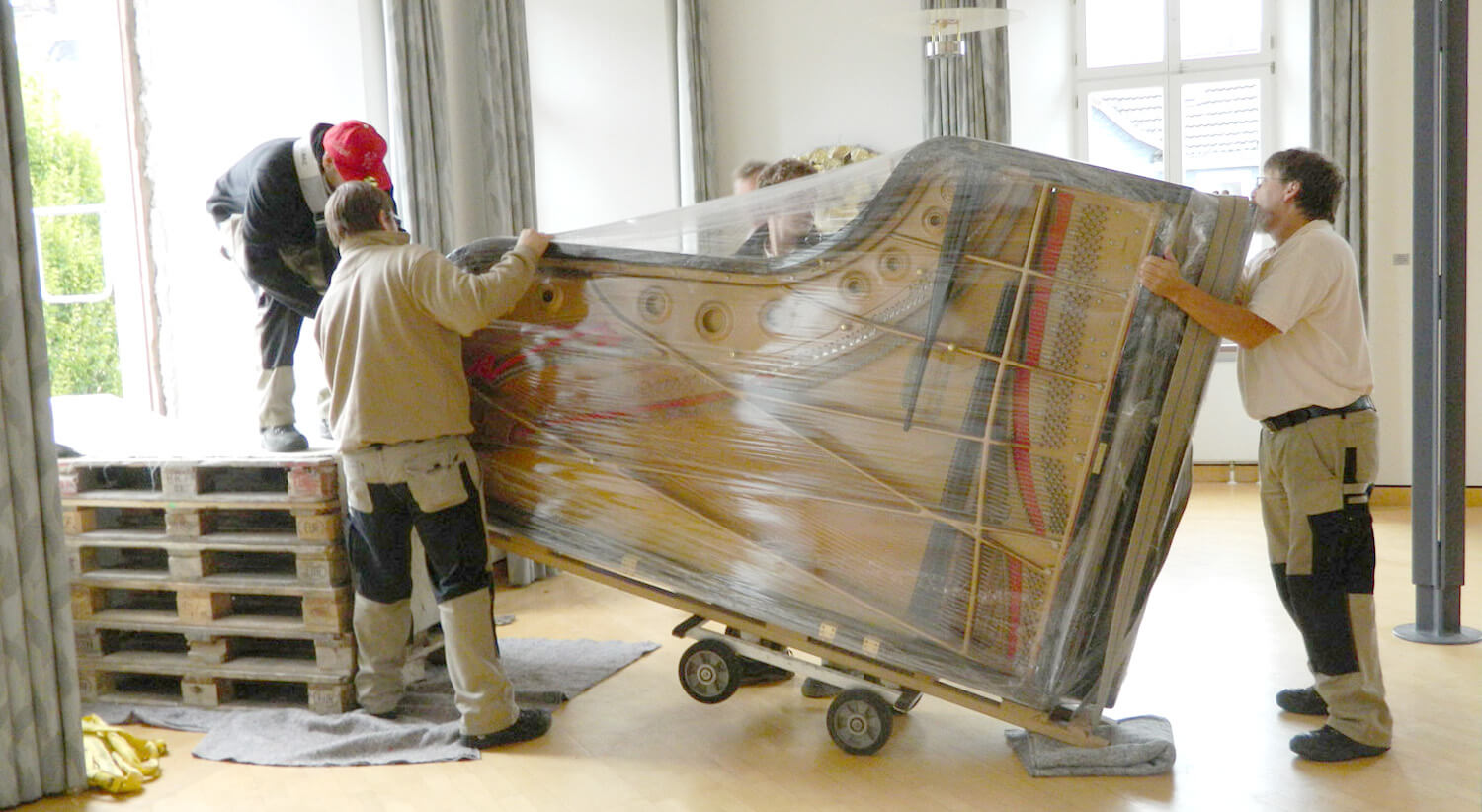 We work around the core foundation that the service provided can only possibly be as good as the piano movers in charge of the job. As a result, we only employ experienced, qualified, and careful workers in our dedicated team, each with a fantastic track record of damage-free delivery. If they are not up to the job, they simply do not get a chance to become a part of our moving team. We are proud of our team of expert piano movers and the standard of perfection upheld in each and every job we complete.
We will help you to safely and securely pack any piano you need to move, supplying the materials required to ensure a damage-free move.
Although the company is based in the Greater Toronto Area, our dedicated team of professionals is able to assist in any move up to 700km away.
If your property is not yet ready to store your valuables, we offer storage units to house your items until you're good to go.
For the first two hours of a typical house move, we charge only $349.99 with an additional $54.99 for every extra 30 minutes. Prices for moving a piano depend mostly on the type of piano and the distance.
We are the ones you call first when it comes to moving a piano. Our team of professionals is able to not only transport your musical instruments carefully but to put it exactly where it belongs in your new place.
Our Reviews

"We used GTA Moving Services to move our beloved grand piano to our new home, and it arrived on time, without a scratch, and with a smile. The GTA Moving team was not only charming and a pleasure to chat with, but they completed the work in a timely manner without so much as a scratch on our piano. 100% would recommend their services."
— Maria, Mississauga

"I employed GTA to move a series of my pianos from my old music store to my new location in Toronto and I was blown away by the service. Dealing with some expensive and rather large instruments, I was nervous handing over responsibility to an outside party, but I can safely say that these GTA movers treated my pianos as they would their own. An exceptional and reliable service."
— Ivan, the GTA
READ MORE REVIEWS

Get a Free Estimate to Move Your Piano!
Do you need piano moving or packing services in Mississauga? Feel free to contact our managers either by phone or by using the form below. One of our consultants will provide you with an estimate of how much your piano moving will cost. Call us today at (416) 523-6683, let's talk.