How to Move a Piano Yourself: All You Need to Know
How to move a piano the right way? The piano is one of the most popular musical instruments in the world, and everyone at some point has played or swayed to its soft notes. Pianos are ever-present at parties, restaurants, hotels and even homes, serving as a good source of entertainment and relaxation. However, unlike the soft melodies it produces, moving this instrument can be one of the most tasking duties to carry out.
The need to move a piano arises every now and then, be it across the city or even to another state entirely, and it can be quite draining. It is a task which requires physical strength, alongside careful planning, execution and precision. A lot of people are not well informed on how to move a piano, which is why it is advisable to leave this task to professional piano movers in Toronto to carry out.
Perhaps, hiring expert movers is not in your budget. It is possible to move your piano by yourself, following some important tips. We have highlighted five important steps that you should follow to make the moving as easy and hitch-free as possible.
Moving a Piano Yourself: Where to Start
Pianos are among the hardest things to move, and this is for obvious reasons. These musical instruments are both heavy and delicate, making them fragile items when it comes to transportation. They are quite heavy and also complex in their setup, which is why moving a piano yourself can be rather tricky.
It is important to take the utmost care of the instrument when transporting it as damage to any part of its setup can alter the quality of the sound later on. There are different types of pianos, with each one varying based on size and weight.
Spinet Pianos: Spinet pianos are the smallest ones you can get on the market, and they weigh between 300 lbs and 400 lbs.
Upright Pianos: Most upright pianos weigh around 500 lbs. The size can, however, vary to reach as much as 800 lbs in weight or even more. They are usually very high, unlike other types. It is important to protect the pedals and keys when moving an upright piano.
Grand Pianos: Grand pianos are the largest around, and this makes them the hardest to move. They weigh up to 1000 lbs, and even more when it comes to specialized models. They are the bulkiest of the bunch, giving them a very odd shape.
Moving a grand piano requires a lot of preparation particularly because of its size.
As a result of the weight of these pianos, moving them from one place to another needs perfect planning and execution.
Step 1: Find Helpers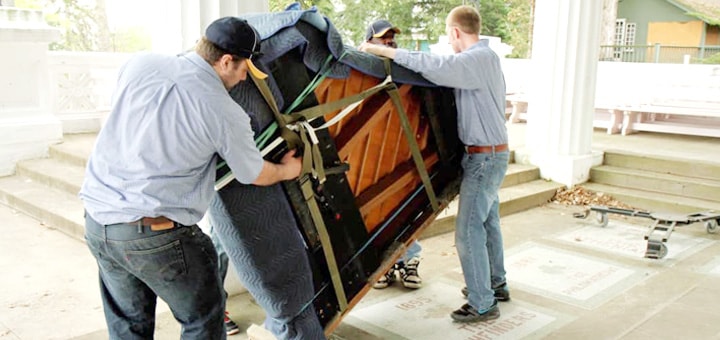 A DIY piano moving exercise still requires extra hands as it is impossible to lift the weight of the piano all by yourself. Contact your friends and family, enlisting their help to move it at a set date.
Pick a date that is work free and convenient for everyone as the movement must not be rushed but done with patience and precision. Inform them beforehand what they are up for so they can come prepared with the right outfit and mindset.
You can set a meeting before the moving date to discuss the plan, including the role everybody will take in the moving, the route to move through and also communication modes on the day including signs and signals. This is important as it gives everyone a clear sense of direction and reduces the chances of miscommunication in the process of moving.
You do not need too much manpower. A team of four is the best way to transport a piano while two extra hands can also be effective as back up. Ensure to keep refreshments handy so your helpers can stay hydrated all through the move.
Step 2: Get All Tools You Might Need
After enlisting the help you need, you need to get all the details and secure the tools you need for the move. Some of the details you need to know when moving a piano yourself include the measurements of your doorways, stairways and hallways, parking spots between your takeoff point and destination as well as the size of the moving vehicle.
Measure the doorways, stairways and hallways of your home to determine how easy it will be to get the instrument through different entrances and outside the house. Make sure to leave all the doors open when moving or going down a flight of stairs and also get all pieces of furniture that could get in the way.
The parking spots between your takeoff point and destination are important to note, as it gives you an idea of the distance you have to travel while carrying the piano into the new place. The moving vehicle must also be spacious enough.
Some of the moving tools and equipment you need include:
Moving Dolly: A hand truck or moving dolly helps you to move your piano, should you embark on a DIY exercise. Use a four-wheeled dolly for easy carriage and an effective result.
Furniture Straps: Straps perform a lot of functions when moving a piano. It helps to secure the piano whenever it is in motion. It also gives you a better grip on it, reducing the weight on you and your helpers.
Blankets: Moving blankets are also very important, as they give your piano all the cover it needs from dirt, debris and damage.
Moving Vehicle: You need a vehicle to transport your piano, and you have many options to choose from. You can use a suitable trailer, rent a moving truck or even use your pickup truck. All that is required is that your musical instrument fits in perfectly.
Step 3: Do Not Dress to Impress
This is one of the most important piano moving tips. It is important to dress as simply and comfortably as possible to guarantee your safety. Wear flexible clothes that are well fitted as baggy clothes might restrict your movement. Sports shoes are the best footwear as they are anti-slip and keep you grounded.
Step 4: Packing Is Everything
This final step is probably the most important of them all as it is pivotal to the success of the entire moving process. The question here is, can a piano be transported on its back? The answer is yes. It can be transported on its back and side, the most important thing is how it is packed. How to pack a piano for moving to ensure its safe transportation?
Close the keyboard lid to protect the keys from damage.
Secure the instrument in moving blankets to protect both its interior and exterior from damage.
Take out the casters from the piano to make packing and moving easier.
Get Moving, Packing, and Storage Services from Professional Piano Movers
You can save yourself all the stress of packing and moving by hiring the services of professional movers. GTA Moving Services provides the best moving service in Toronto and the GTA at very affordable rates. We are home to expert movers with years of experience in moving pianos.
Our movers pack your musical instrument with the necessary tools and procedures, securing it from any form of damage. They also work in teams, eliminating the need for helpers on your part. We have our fleet of vehicles that carry any size of piano you might want to move. We are available around the clock. Call out our expert team or fill out the form below to book our services today!
Do you live with your parents and think about being independent? Read our full guide on how to move out of your parent's house!