Looking commercial movers in Toronto or GTA? We have the expertise and experience to ensure that downtime during your office move is minimized — getting you up and running again as quickly as possible.
Toronto movers Available 24 \ 7 \ 365
For all your Toronto office moving needs, our office moving packages are designed to fit your time and budget requirements.
Your personal Operations Manager will oversee every part of your move from start to finish which is why we're one of the leading commercial movers from Toronto.
Commercial Moving Tricks of the Trade
GTA Moving Services has many years of experience in office moving services and we're happy to share some of our expertise with you for seamless Toronto office move efficiency. Here are our top tips for making sure that your office relocation goes without a hitch:
Check all drawers and filing cabinets for fragile or valuable items, wrap them carefully and put these aside for expert packing by GTA Moving Services team.
Get in touch with your technical/electrical equipment service providers to get their recommendations on the best way to minimize disruption - it's often a good idea to book a service for sensitive equipment to save time and disruption of service.
Let your Operations Manager know of any sensitive equipment or items of high value in advance so that the office movers can be briefed and, appropriate measures can be taken.
Ensure that all company and employee vehicles are moved away from the loading area in order to avoid wasted time on moving day — our trucks are bigger than you think and need a nice big area for maneuvering.
All of your valuable furniture and equipment is fully insured by us and our price promise means that the quoted price will never rise either now or in the future — this is GTA Moving Service's competitive advantages and UVP.
For further convenience and flexibility, GTA Moving Services are able to offer weekend and out of hours appointments to meet every schedule and requirement.
Office Movers from Toronto at Your Service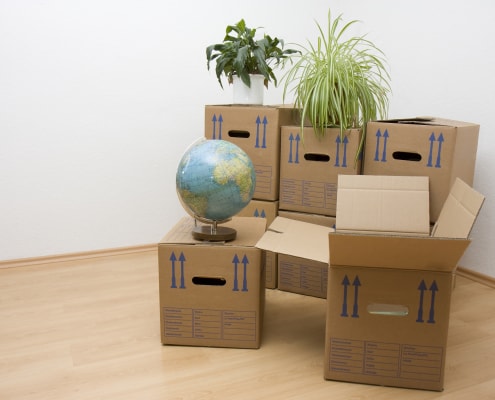 We understand that your office equipment is valuable — and so is your time, which is why GTA Moving Services expertly trained moving team will work with you to design a bespoke moving plan which works for you and your employees. Our friendly and professional moving team are trained to disassemble furniture — and assemble it again at the other end. They also will pack and unpack all of your office furniture and equipment. All furniture will be professionally re-assembled and installed and, all office sundry items will be color-coded to ensure that everything is in the right place on arrival at the new location. Your important electrical and computer equipment will be expertly packaged and protected for super-safe relocation to make sure you're back online as soon as possible.
Using the most up to date technology and equipment, GTA Moving Services guarantees safe, secure and efficient relocation of all office equipment, however big or small.
As we understand that your moving out day and moving in day may not necessarily be the same, we offer additional moving services including a moving storage warehouse solution at a small additional charge, for added flexibility and convenience. Let GTA Moving Services take the strain out of your office move with our range of moving services for the Greater Toronto area.
Toronto Office Movers Get You Moving
For all your commercial moving needs, GTA Moving Services delivers. Our team of professional and efficient customer service representatives are ready to take your call on (416)5236683 at our Toronto office in Ontario, Canada. Alternatively, fill in our online form via our website and one of our Toronto managers will be in touch.